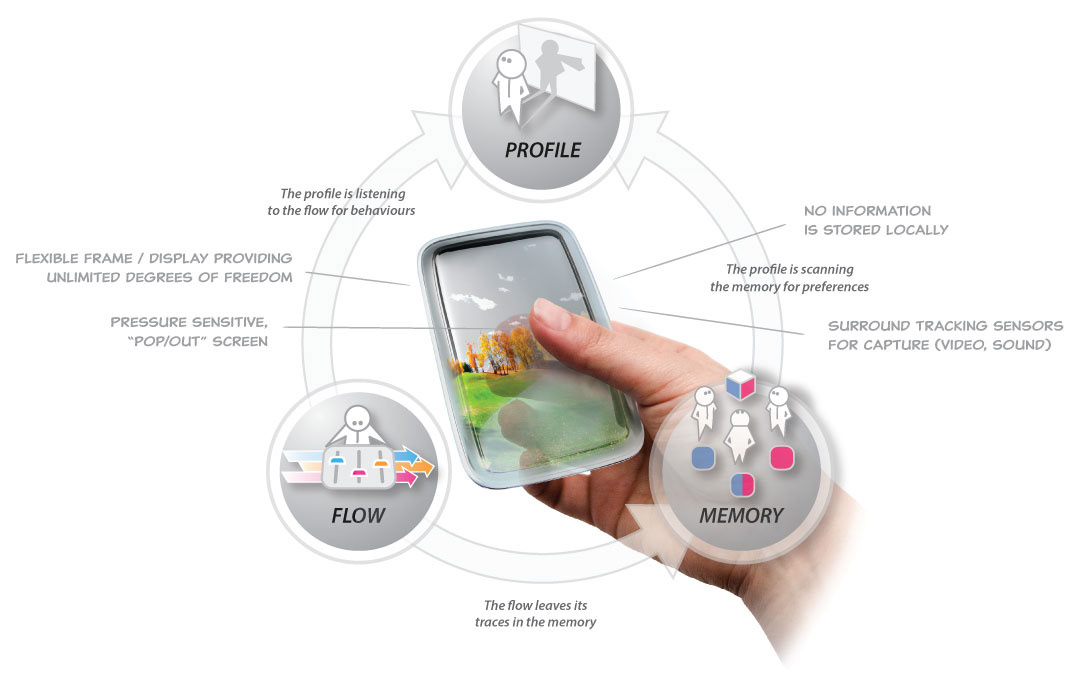 GOAL
To envision the eco-system of personal mobile devices in two decades time.
The Flow was an in-house project that captures the culture of evolving technology within communications at Veryday.
In the future, 'ringing people up' will be a thing of the past. Actions like 'taking a picture' or 'recording a video' will seem old-fashioned. "There will be no on/off switch in the future. And no need for the 'undo' button. You will raise or lower your levels of interest and availability in order to be able to quickly return to interesting or special experiences and to allow for different forms of communication.
The Flow is an always-aware, always-documenting solution. It moves beyond a 'single-user' or 'single-device' view point. It also lets you take part in other people's 'life memories'. The Flow is constantly synchronized to an individual's events, meetings and emotions. In fact you will be able to rewind your life and drop in on that meeting you had the day before. With The Flow, you can keep information overload under control via a personal profile that constantly keeps track of your needs. It provides you with recommendations, structure and news that is right for you. Importantly, this information is delivered in less disruptive and less stressful ways than we are used to.
TYPE OF WORK
Design for Innovation, Service & Experience
EMPLOYER/ CLIENT
ERGONOMIDESIGN (now Veryday)​​
OUR ROLE
In addition to conceptual design, visualizing the concepts and design the communication materials to present the conceptual design work.

​​​​​​​